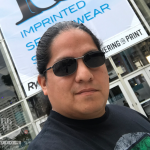 Born in Southern California during the 80's you can almost guarantee that I would be attracted to anything that had to do with art, and the beach. At an early age I always had a fascination with things like legos and lincoln logs. With very encouraging parents I was constantly leading myself towards an artistic nature in life. Participating in school plays and theater groups my taste for the arts flourished. It was not until after high school that my obsession for Graphic Design began. I was probably around the age of 19 when I wanted to make a website for my friends and I, who had been pretty obsessed with comics and a few types of music. I owe a big thanks to my friend Jeff, who at the time showed me Photoshop 7.0.
My early projects were definitely something to be desired as I had no clue how to properly work the program. The best way I can relate this to people is throwing darts in the dark and hoping to hit something, anything. Over time my skills progressed to the point that I would spend hours working on a project, not because I couldn't figure out how to do something, but because I was creating art. It was at that point that I decided to get a college degree in a hobby that was taking up most of my free time. In 2003 I graduated from Westwood College with an Associates Degree in Graphic Design and Multimedia.
My creative influences come from a variety of places. A huge comic book fan certainly draws upon the dynamics set forth in the comic book industry. I am also largely influenced by cinema of all genres. I have a favorite series of art that I like to do inspired by the Grindhouse movies of the 70's. A personal project that will constantly be worked on.
I have worked professional for over 9 years and freelanced for close to 15 years. My skills involve Adobe Photoshop and Illustrator with experience in Macromedia Dreamweaver and WordPress. With my skills constantly evolving, because art is never finished only abandoned, I strive for the next goal in life, and constantly set new ones.
Recently I have begun blogging my adventures that you can find in this newly reformatted website. In the future it will include more of the step by step process as I try to explain my method in the way in which I go through my creative process.

15 years of profesional Photoshop experience on both Mac and PC Platforms.

14 years of professional experience designing Logos, Banners and Decals.